10 Ways to Customize Your Wedding Gown
You found a dress that you absolutely adore. It fits you like a glove and is a reflection of your style and personality. But the dress is just the first piece of your overall wedding day look, and you can completely transform this look with your choice of jewelry, accessories and shoes. The question is, how do you bring it all together? Here are 10 ways to accessorize your wedding day look.
1. Brooches
If you have a simple gown with no intricate beading, consider adding a glam brooch to your bustle! It will definitely bring a subtle yet sparkly detail to the back of your gown.

Left to Right: Brooch by Haute Bride; Pave Crystal Bow Brooch by TiAdoro; Brooch with Bronze Center by Erin Cole
2. Belts & Sashes
Belts are a wonderful way to add some personality to your wedding day look, from a wide band of colored fabric, a thin strip of black, or elaborate pieces with beads and pearls. Keep in mind that sashes draw attention to the midsection and define it, so be sure to experiment with different widths and embellishments.
Left to Right: Horsehair Bow Sash (Photography by Garret J. Poortinga); Belt By Erin Cole; Justine Sash by Nina
3. Straps
Adding jeweled straps to your strapless gown is a unique way to completely transform your wedding day look into something more glamorous and sparkly. Since they are removable, you can add them during the reception to switch up your look!
Left: Vintage Tennis Strap by Lulu of NY; Right: Classic Bauble Strap by Lulu of NY
4. Cover-Ups
We love the idea of pairing your dress with a cape, jacket, or shrug for your grand entrance, photos or when the cool night weather sets in. They are elegant, unique, and certain to add some glamor to your wedding-day look.
Left to Right: BHLDN Ebullient Bolero; Shrug by Holly Stalder; Ostrich Feather Capelet (Photography by Garrett J. Poortinga)
5. Gloves
They are so feminine and romantic, and we love seeing brides accessorize with a pair of dainty gloves. The type of glove depends on the sleeve, fabric and length of the dress, so if you think that gloves are for you, be sure to try on different lengths and styles.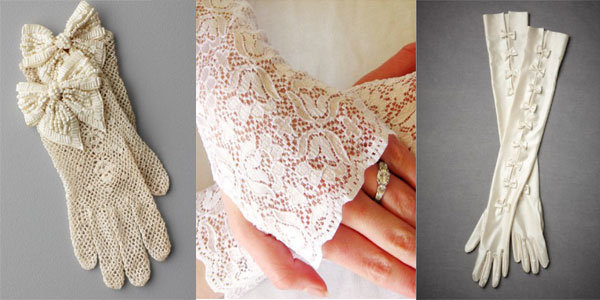 Left to Right: BHLDN Crochet Gloves; Lace Fingerless Gloves by Seamstress by the Sea; BHLDN Peek a Boo Gloves
6. Statement Jewelry
Do experiment with statement pieces to enhance your wedding day look. If you're wearing your hair down, choose a dramatic pair of chandelier earrings (dainty ones will get lost in the shuffle).  And if you are donning a strapless sheath, by all means, wear that chunky statement necklace!
Left to Right: Vine Cuff; Necklace by Haute Bride; Kendra Scott Trista Chandelier Earrings
7. Veils & Hairpieces
Wearing a veil is not a requirement, even though most brides opt for one, whether it be a traditional veil or a more modern cage veil or blusher. If a veil is not for you, consider a tiara, headband, hairpins, a fascinator, or fresh flowers. The options are endless!
Left to Right: Flower Fascinator Comb (Photography by Garrett J. Poortinga); Blaise Veil by Justine M. Couture;Vintage Leaf Headband by the Wedding Dresser (Photography by Garrett J. Poortinga) 
8. Purses
Don't forget about the purse! While you won't be carrying it around much on your big day, a clutch is a great wedding accessory and a way to have fun with colors, textures and other embellishments.
Left to Right: Dessy Chantilly Lace Clutch Box; Rose Box Clutch by Sondra Roberts; Bow Clutch Purse in Fuschia by David and Chiyo
9. Garters
The garter is one of the oldest wedding traditions, meant to symbolize luck. Today, garters are more about the fun. Since they are (for the most part) not seen, why not play with color and embellishments?
Left to Right: Vintage Garter by GarterLady; Ivory Garter by A.B. Ellie (photography by Garrett J. Poortinga); Something Blue by VioGemini
10. Shoes
Who doesn't love shoes? A bride's personality can really shine through in her choice of shoes, but first and foremost, do choose a pair that you can stand to walk around in all day long. While shopping, bring along a swatch of your dress to make sure that the color and tone of the shoe complements your gown. Finally, bring your shoe (or a pair with a similar heel height) to your final alteration fitting so that you can tailor the length of your gown to perfection!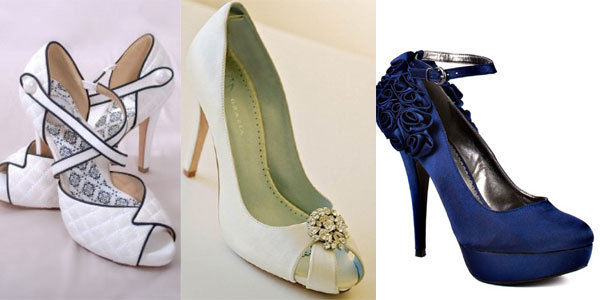 Left to Right: Cocoa Puffs by Hey Lady Shoes; Valentine by Grazia Shoes; Lennon Navy Heels by Lovely People
Remember, don't let your accessories compete with your gown. The focus should be on you and your beautiful wedding dress. And at the end of the day, don't be afraid to experiment and have fun accessorizing!